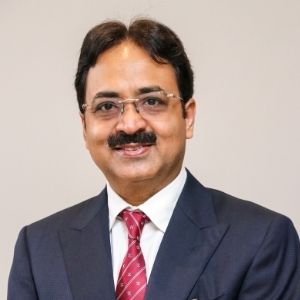 Message
Dear Members and Dealer Friends,
Thank you for giving me this opportunity to lead FADA, an organisation which has momentous past and an exciting future. I am truly humbled with this honour. It is my determination and my endeavour too that as I take the baton from Ashish to help FADA reach newer heights and for this I seek the support and cooperation of my family of 15,000 Dealer friends.
I take this opportunity to thank all my seniors in the past for having worked so hard in making FADA what it is today. I thank our Immediate Past President, Shri Ashish Harsharaj Kale and the Governing Council Members in working closely and unitedly in taking some of the boldest decisions in the interest of dealer community in such turbulent times when disruptions have become the new world order. The work must continue as a lot of ground still needs to be covered.
Since over 20 months automobile sales have been heading south and the onslaught of Pandemic has worsened our woes but it has also helped us come together and stay resilient and seriously introspect our way of doing business. To sustain our business we must continue our engagement with our principals to work towards achieving 5% PBT, 10-15 days of inventory at dealerships, leaner infrastructure and overhead costs till they become the new norm for conducting our businesses.
Towards this, I shall be working closely to get Franchisee Law formulated and implemented so that, not only all the above is taken care off but the beautiful business we are in, for which we have worked hard to create a niche, is appreciated and respected. Franchise Act will help us in getting our due share. It will also give us a level playing field w.r.t. our principals. 
Secondly, as mentioned in my maiden speech, FADA will soon have a 2-wheeler vertical to specifically address the concerns of this segment. Towards this, work has already started and your State Chairperson will be appointing one exclusive two wheeler dealer as Regional Director in the state who will also be part of national 2-wheeler vertical. My request to all our 2-wheeler members is to come forward and volunteer yourself for working towards the benefit of the segment.
Thirdly, FADA shall continue to pursue with MSME Ministry for inclusion of Automobile dealerships and workshops in the ambit of MSME definition. 
Fourthly, FADA's inclusive approach of working in tandem with other stake holders of auto ecosystem – SIAM, ACMA, Financial Institutions and Government Bodies will continue to bring back growth trajectory in Automobile Industry. This is the need of the hour.
We are not only the highest contributors to the national exchequer but are also the highest employment generators. We also skill and up skill people near their homes and thereby are truest contributors to our Hon'ble PM's vision of Atma Nirbhar Bharat.
Fifthly, to make FADA's umbrella stronger and wider, all out efforts will be made to increase our membership base so that far flung dealers can also join the FADA movement. We all will have to work together to encourage our Dealer friends who have not yet enrolled themselves as a life member of FADA to do so and gain from the solidarity and unity of the Community.
FADA has witnessed 1st ever AGM on a Virtual Platform in its history of 56 years of existence. The event went of smoothly and was a great success with participation from each one of you and untiring efforts by the Secretariat Team led by Mr. Saharsh Damani, our CEO. Due to the current Pandemic, this seems to be the new normal. But we hope, we will surely start our physical events soon!
During the event, our Chief Guest Mr. Uday Kotak said "Automobile dealers are the engines contributing to 49 per cent of country's progress" while our Guest of Honour Dr. Pawan Goenka also affirmed "Automobile Dealers make a huge contribution to growth of country's growth. Covid has helped in shattering mental barriers. Changes that are happening is Digitalisation which OEMs are adapting to by developing excellent digital platforms."
Coming to Auto Sales, we as Auto Dealers are going through the worst crisis in our entire existence as we have inventory in abundance but limited funding options. There was a pent-up demand to some extent in June & July but now, natural demand has also started to pick. However, predicting the future scenario is very difficult as of now as we are seeing unprecedented times.
Demand in rural is stronger than urban, mainly due to good monsoon, good Rabi harvest, etc. However, there is a risk of getting into second or third phase of contagion that can negatively impact the demand and the industry needs to be cautious of that. Consumers see personal mobility as critical in the new era of social distancing. The focus is moving from desire to need.
While OEM's are dispatching vehicles to Dealers with a purpose of stocking-up inventory for the upcoming festival season, retail sales are still at 70-75% levels despite the low base of last year. FADA advises extreme caution to all OEMs and our Dealer fraternity to avoid excessive Inventory build-up thus, leading to unmanageable interest cost which could further result in dealership closures.
We anticipate that this festive season, we will finally witness some good sales taking place. I anticipate that we will definitely match up with last festive season in PV & 2W which itself should be a big achievement in the current situations we are living in. 
The only caveat which I have, is the rise of Covid cases in specific geographies as this will play a spoil sport in those regions which will see jump in cases during the festive period.
Coming to my team, I am proud that in this journey, I have a great team with Passionate Mr. Manish Raj Singhania, as Vice President, Dynamic Mr. C S Vigneshwar as Secretary & Sensible Mr. Sai Giridhar as Treasurer along with relentless and talented team at our Secretariat that works around the clock on your behalf headed by Mr. Saharsh Damani, our CEO who is diligently assisted by Mrs Indira Menon.
As the economy is opening up, we need to be more cautious with regards to the pandemic hence please take necessary precautions at dealerships, workshops and at your homes.
Before I stop writing, let me pray for a super duper sales this Festive Season for all of us  & good health of you and your family!
HAPPY NAVRATRI & DURGA PUJA!!!
Stay Healthy – Stay Strong 
Warm Wishes,
Vinkesh Gulati
President, FADA