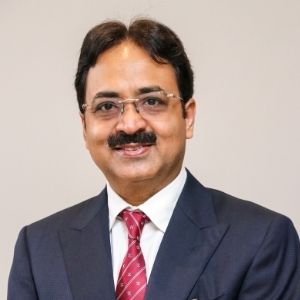 Message
Dear Friends,
While we are nearing the end of this financial year, the upcoming year brings a host of new opportunities for all of us. FADA and its dealers have continuously rallied together despite the pressing challenges brought on by the global health crisis. I commend all Dealers for ensuring the safety and security of our customers and employees throughout this difficult phase—all while keeping the doors of our showrooms and workshops open for business.
In the new Financial Year, I request my fellow dealers to look at all aspects of our business through the lens of the customer and be open to a mindset of doing things in a different way.
You will be happy to note that with omicron cases receding, we will slowly but surely get back to business as usual. FADA is planning to go full throttle in connecting with its members in physical format –to understand and work with them to mitigate bottlenecks & to educate and make them future ready. Though various initiatives conducted online, we at FADA had tried to maintain connect with the Dealer fraternity at all times.
As a regular initiative, we are holding series of meeting with State Chapter Leadership teams to keep understanding local issues and appraise them on what FADA is doing at the centre. We are also communicating to them the support & cooperation which we require in making FADA truly a One Nation, One Association for Auto Retail in India.
Based on these discussions, FADA General Council in its meeting constituted Membership Committee & State Budget Committee to make decisions with regard to these activities. The core committee will be also monitoring the efforts made by each state chapter and handholding them. This not only allows faster decision making but also involves more minds who can debate and discuss the issues in details for better implementation.
The newly constituted Membership Committee will be working towards getting all the Auto Dealers under FADA's ambit, the State Budget Committee will work towards empowering the State Chapters to initiate activities towards the welfare of the Dealer community at State level without having to wait for the want of resources which may be required at any given point of time.
Events not only bring the Dealer community together but also help in exchange of ideas & best practises which augurs well for the community as a whole. Also, close interactions with the State Transport & other departments helps in better understanding of the Dealer concerns and lays the foundation of trust and understanding with the ministry which helps in influencing important decision/ policy formulation.
To promote close interaction amongst Dealer community, FADA is launching its Vyapar events beginning with Vyapar North Bengal & Sikkim to be held on Saturday, March 5, 2022 in Siliguri & Vyapar Rajasthan to be held on April 18, 2022 at Jaipur. The programs are under finalisation and we shall keep you informed through State WhatsApp groups, Social Media Handles & emails.
FADA had organised a Webinar on Key GST Issues for Automobile Dealers on Saturday, the 19th February 2022. I am happy to note that Dealers joined this webinar in large numbers and also raised queries which Mr. Puneet Bansal – Managing Partner, Nitya Associates answered in detail, I hope you found the session meaningful as well as helpful.
I wish to also bring to your attention that since USA Visa window has still not opened, FADA will not be taking its delegation to NADA Convention 2022. However, dealers who wish to attend the convention may do so & FADA shall assist them in their show registration.
FADA Awards 2021, nominations due date has been extended on popular demand which will enable opportunity for Dealers to send in their nominations. FADA Awards as a platform recognizes and rewards excellence in automotive retail across brands, categories and regions. The Awards are known for their neutrality and transparency in recognising the best Dealers in various categories. These awards will be given in front of the entire gamut of automobile industry and I request you once again to submit your nominations if not done yet. The Award presentation ceremony will be held along with the Auto Summit 2022 (dates for the same are still being worked upon).
FADA has been working keeping Dealers' interest in mind and working upon new businesses which Dealerships may broach upon to increase their revenue. Towards this, we have shared with all of you opportunity to set up Vehicle Scrappage Centres & Automated Vehicle Testing Centres. MoRTH has shared with us the business plan for setting up these. Those interested must revert to FADA with the details as mentioned in the mail. We are also doing a webinar on the same so that interested members can discuss the same with MoRTH and PwC, the consultants for this initiative.
Recovering from a pandemic and regaining momentum in the retail sector to once again rise above the pre pandemic level is our initial challenge. But strengthening our ecosystem—and a willingness to do things a different way—is our long-term goal. Every dealer has a responsibility to make our working environment stronger. For this, I once again urge all of you to establish connect with your local Member of Parliaments and make them understand the nuances of our trade and why an Auto Dealers Protection Act is a must!
Further, after the announcement of Union Budget 2022-23, Parliamentary Standing Committee on Industry sought FADA's inputs with regards to the announcements made in the Budget and whether the announcements made would help in augmenting growth for the Auto Retail Industry. This goes to show how FADA's release of retail figures and other announcements are closely being considered by the central ministries.
For your Federation to keep forging ahead, fresh ideas and newer members must come forward to take lead as this leashes freshness to Federation activities & initiatives. I'm proud that FADA will work to advance its own diversity initiatives throughout the year, so that we can attract a more diverse workforce in terms of NexGen coming in the business, create opportunities for women leaders and other under-represented groups, and help our small dealers friends succeed. We will look at many avenues to new pathways, including more resources, business training, coaching and mentoring and ultimately, creating newer partnerships for our self-sustenance.
As you can see, we have a lot of work ahead, but also a lot of opportunity. The beauty of our industry is that hard work pays—even through market turmoil and a global pandemic. I commend fellow Dealers for your hard work through these unprecedented times. In the upcoming year, the India's Automobiles Dealers will continue to show what they're made of!
Warm Wishes,
Vinkesh Gulati
President FADA