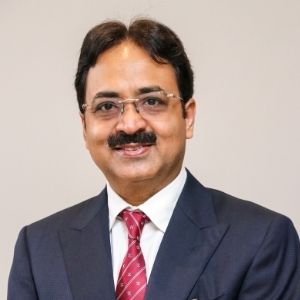 Message
It's time for the Change of Guard at FADA
Dear Friends,

As my two-year tenure (2020-22) as the President of FADA comes to an end, I have so many people to thank and express my gratitude for supporting and cooperating with me and, helping to ensure that almost all the initiatives undertaken during my tenure were completed within a time bound manner. Our one and only purpose was to keep expanding, consolidating, and strengthening FADA constantly from the time I had taken the baton from my predecessor and friend Mr. Ashish Harsharaj Kale.

With this as the motto, I toiled along with my colleagues in the Managing Committee, Executive Committee, Governing Council, and State Chapters to ensure that we were able to deliver greater value to the Auto Retail fraternity. I specially want to thank my core team Mr. Manish Raj Singhania, Vice President, Mr. C S Vigneshwar, Secretary, and Mr. Sai Giridhar, Treasurer. Without all their support, I would not have achieved even half of what we could do in last 2 years!

When I assumed President's office, the Covid-19 pandemic was raging. We, as FADA, embraced the new normal and leveraged technology to keep all our members engaged through webinars, virtual meetings, and brainstorming sessions on topical burning issues.

Further, continuous dialogues were held between the central team and state chapter members to understand their concerns and to formulate structured action plans that FADA would undertake. As a result, we were able to host webinars on: Service Tax on Discounts and Incentives, New Consumer protection Act, New Labour Codes and HR Compliances, Changes in TDS/TCS provisions in IT Act, building a customer centric organisation, electric vehicle panel discussion, Insurance Panel Discussion and GST 2.0 with the intent of educating members of the new changes through the pandemic and preparing them to brazenly face the future.

We also conceptualised and created the 2W vertical with each state chapter appointing a 2W State Director to address state specific issues of the two-wheeler dealer community. One strong step we took in this direction was to address the peculiar problem of Multi Brand Outlets (MBO) along with the transport department.

Apart from the 2W vertical, our aim was to formulate the Auto Dealers Protection Act along with a Model Dealer Agreement (MDA). I am proud to state that both the Act and Agreement are now ready, and we have even met more then 50+ Members of Parliament to sensitise them about the issues facing the Auto Retail trade and why it is important to pass this act. This is a long process and I hope that under the able leadership of Mr. Manish Raj Singhania, we will be able to bring these two topics to their rightful conclusion. I am also happy to share that we shall be launching the Model Dealer Agreement (MDA) at the 4th Auto Retail Conclave scheduled to be held on 13th September'22 at ITC Maurya, New Delhi.

We empowered State Chapters with their own budgets, to make them more effective, which encourages the State Teams to spend their funds on activities and organising events for the betterment of the dealership community and towards forging stronger bonds amongst the members by providing them with a platform for networking and sharing of best practices.

To recognise and appreciate the efforts put in by state chapter members on widening the membership base, the top 3 States with highest number of applications to join FADA every quarter were bestowed with a Digital Rolling Trophy and Certificates from the Give Me Trees Trust where the trust plants and nurtures trees for three years until they become self-sufficient.

FADA is today a reflection of the efforts and initiatives taken up by FADA Presidents since its inception in 1964. To connect with them, to understand and consult them, a Rendezvous with the Past Presidents of FADA was organised which was an insightful experience helped pave the way for what FADA can do further to serve the needs of our dealer community.

Keeping FADA and the Auto Retail Community's future in mind, Project Lakshya was initiated where the Executive Committee brainstormed on the vision of where FADA should be in 10-15 years. Accordingly, short-term, and long-term goals were set along with short listing of projects to achieve the same.

The youth is our future and dealerships are largely family run business. To inspire the youth and bring them into this business, a new vertical called FADA GenX with the tag line 'Collaborate, Innovate, Accelerate' has been created. Around 100+ GenX members have already joined the vertical with more coming in. Each meeting till now has been a huge success. I am thankful to Mr Sachin Shah, Chairman and Mr Rishabh Sanghi, Co-Chairperson of the vertical who have successfully implemented my Dream of involving the next generation in FADA.

To recognise, applaud and learn from women entrepreneurs in the auto retail business, Women in FADA vertical has been initiated under the leadership of Ms Garima Misra. This initiative will not only bring forward and promote the powerful women in our business but will also help all those who want to co-learn, co-share and grow in their journey of Auto Retail. This vertical will help us change attitudes and behaviours and enrich our knowledge by promoting gender equality and women empowerment.

Going forward, the FADA Academy is now ready to launch specialised courses for Dealer Principals and CEOs to further sharpen their leadership skills, keeping in mind the ever-evolving Auto Retail business.
Apart from these landmark initiatives, we also institutionalised a few other programs in my tenure which will be a regular feature in the annual FADA calendar:

a. Dealership Satisfaction Survey Study in association with PremonAsia
b. Finance and Insurance Summit in Mumbai
c. 2W Conclave in Delhi

FADA also worked to solve dealers' grievances on the unannounced sudden exit of OEMs like Harley Davidson and Ford. We helped dealers get compensated for their investment and set up a mechanism wherein the existing customers could be attended to. On the other hand, efforts were made in all earnest to advocate for the Auto Dealers Protection Act (ADPA) to be enacted. The intent of having ADPA in place is for the protection of not only the dealer's interest but also that of the customers and employees.

FADA is today a name to recon with as even the Parliament of India consults us whenever they have Automobile related discussions. In fact, the standing committee on Industry had sent us a long list of questionnaires to know our point of view on the status of the industry. Apart from this, the Reserve Bank of India via its Industry Monitoring Group also sends us questions on a half yearly basis to know the pulse of the industry.

It was during my tenure that Wholesale and retail trade and repair of motor vehicles and motorcycles was reinstated under MSME Act providing much relief to the dealer community. This was due to relentless follow up by Mr Ashish Harsharaj Kale, my immediate predecessor who left no stone unturned to make this happen.

We were fortunate enough for the then Ministry of Micro, Small & Medium Enterprises (MSME) Minister, Shri Nitin Gadkari ji to kindly accept our invitation and consent to address the auto dealer community through a webinar regarding the benefits of falling under the MSME ambit and for patiently addressing the concerns of the members in the Q&A Session. This was the first time a Union Cabinet Minister addressed FADA Members exclusively over video conferencing.

When the Registered Vehicle Voluntary Scrappage Facility and Automated Vehicle Testing Facility program was being introduced, the current Joint Secretary, MoRTH Mr Amit Varadan along with the PwC team helped appraise the dealer community regarding the business opportunity this would provide. Not only this, for I, along with FADA Secretary and CEO FADA, were asked to join the Government Delegation to UAE during Dubai Expo'20 to meet with potential international investors for this project. This was for the first time that FADA became part of any Government's international delegation.

I am happy to share that due to persistent representations & continuous follow-up, Ministry of Road Transport & Highways (MoRTH) has come out with draft notification for online issuance & renewal of Trade Certificate. Validity of the Trade certificate is also being extended to 5 years. Final notification is currently awaited.

Also, based on FADA's representation, MoRTH is currently working on a draft to streamline the sale & purchase of registered vehicles by dealers on e-vahan portal bringing the trade under regulatory mechanism & providing much needed transparency.

To make FADA Research outshine its peers we have started releasing the following in Auto Retail Figures:

a. Sub-segment retail figures for CV
b. Quarterly retail figures
c. EV annual retail figures.
d. Sub-segmentation of 3W

These figures are eagerly awaited for by financial institutions, RBI, and other Government agencies. In fact, these figures can be seen quoted in many Government websites because of the authenticity and accuracy of reporting.

As my friend and colleague, Mr. Manish Raj Singhania takes over the leadership role at FADA's 58th Annual General Meeting on 24th August'22 at Mayfair Lake Resort, Raipur, I am confident that as our next President, he and his new team will continue to take FADA to a newer orbit of growth. I hope he will maintain the momentum and the speed of work which we have achieved till now and will only continue to grow further.

I urge you to take a pledge and support Manish and the new leadership team whole heartedly. Let all of us come forward and contribute towards the initiatives taken by your association and continue to work harder as we have many more miles to go.

Friends let's take what's already built and continue to further improve on it. Let's make it a defining moment to create our own destiny. Instead of caving to short-term pressure, let's focus on what really matters: capitalizing on our existing dealership presence and finding new and better ways to excite our customers.

The journey of the new Auto Retail has just begun, and the possibilities are endless. This is our defining moment. Let's continue to build better relationships. Let's improve our processes and financial prudence. Let's open more doors and let's get more involved because that is the path to a brighter future for all of us.

As I step into the new role as Chairman – FADA Institute of Automobile Marketing and Research, I seek your support to shift my gears to newer pastures. Let me assure you that I will put my best foot forward and continue to add value to your businesses through various initiatives that I plan to roll out over the next 2 years under both the verticals, FADA Academy and FADA Research.

Let me thank each one of you from the core of my heart for all the support, co-operation, and encouragement. It has been an absolute honour to lead this great Institution from the front.

Thanking you and for one last time.

Jai Hind and with warm regards,

Vinkesh Gulati